(kirjutet peale rasket töönädalat klaasi veini saatel... kuid ehk siiski miski mõttega)
Seitsmekümnendate Ameerika. Kung-Fu on vallutanud kino, televisiooni, raamatud ning südamed. Seda tuleb nii uksest kui aknast. Isegi raadios lauldakse "Everybody is Kung-Fu fighting".
Tegemist on meelelahutusega, mitte kultuuri ajaloolise tutsvustusega ning olgugi, et kusagil on peidus ka kung-fu tegelikud juured, tekib selle ümber justkui omamoodi müstika. Inimestel tekib arusaam võitlusmunkadest ning selle ümber olevast maailmast, mis on täiesti fiktsionaalne - väljamõeldis.
Ometigi oli see äge ning kes ei tahaks rohkem ägedust oma ellu. Nii pistsidki laua-rollimängude loojad ka võitlusmunga oma reeglitesse olgugi, et selle seos Sõrmuste Isanda, keskaja Euroopa ja mütoloogiaga, millel too mäng enamuses baseerus, oli ilmselgelt... väiksem kui olematu.
Siiski, mitmeid generatsioone hiljem tunduks
Dungeons and Dragons
ilma Munk klassita lausa imelik - see on muutunud kuidagi selle maailma osaks.
Ma ei ütle, et antud teekond on olnud lihtne.
Dungeons and Dragons
5e
reeglite põhine munk on hetkel vast kõige paremini välja tulnud ning selleks läks 40 aastat. On seda korduvalt nimetatud kõige hullemaks klassiks terves mängu ajaloos.
Kuid ometi on selles algusest saati olnud midagi...
Hoolimata sellest, et tihti võitluses ebapraktiline...
Hoolimata sellest et baseerub kellegi muljel kultuurist, mida pole kunagi sellisel moel eksisteerinud...
Kuidagi on see ikkagi 40 aastat vastu pidanud ja arenenud.
Miks? Sest mõte ise on äge. Ja kes meist ei tahaks rohkem ägedust oma ellu? Hoolimata sellest, et esialgu võib tunduda, et see kohe mitte kuidagi konteksti ei sobi...
Kõike annab kuidagi sobitada. Põhiline, et äge oleks.
Kui ma sügisel hakkasin mõtlema sellele, kuidas Eesti mütoloogial baseeruvat rollimängu teha ning peas juba vaikselt maailma kokku panin, ei olnud ma mitte kuidagi valmistunud esimese mängija esimese küsimuse jaoks.
"Nii et Tabaxi rassi selles maailmas ei ole jah?"
küsis ta.
"Ega vist..."
vastasin tookord, sest olgem ausad, toppida Eesti mütoloogia keskele leopard-inimesed ning need ka kuidagi ära põhjendada... ei ole just lihtne ülesanne. Mingit analoogiat kah kuskilt võtta polnud.
Ometi jäi see mõte mul ajusoppi ketrama. Kõutslased rassinimena oleks ju ise-enesest nunnu, aga kuidas ma neid põhjendan? Tahtsin ma ju, et kõik siiski vähemalt mingil määral meie mütoloogiaga seotud oleks.
Kass-inimesi meil mütoloogias ei ole (vähemalt mina pole leidnud), ainult koer-inimesed. Küll aga käib kass läbi mitmest tekstist. Võib selle kuju võtta nii luupainaja kui ka katk. Kassi kahte pimeduses heledavat silma on kasutatud kollide kirjeldamiseks.
Eisen ütleb, et tondid päeval kassidena ringi käisid:
"Tondi meelitamiseks viidi majarahva poolt tihti ohvrid. Need ohvrid olid tavalisesti puder, piim ja muud road. Neid kanti mõnes kohas iga nädal korra lakka ehk laudile tontide jaoks. Viijad rõemustasid, kui kassid tontidena roa ära olid söönud."
Sellele lisaks on veel hunnikus ebausku, mis selle loomaga koos käib. Küll ennustab ta ilma, lapse või kasulapse tulekut, tüli, tulevat külalist, õnne kui ka õnnetust.
"Hobuseõnne kaotab kassi vihkaja või kassipoja uputaja; ka öeldakse niisugune isik vaeseks jäävat. Kassi vihkav tüdruk ei saa mehele, aga ka mitte liialt armastav."
Saa nüüd aru mida selle kassiga täpselt tegema pidi? Tappa ai tasunud, vihata kah mitte, kuid ka mitte liialt armastada.
Ilmselgelt on kasside puhul tegemist liigiga, mis on oma käitumise ja olekuga on tekitanud omamoodi müstika enda ümber ning seda kasutamata jätta oleks ilmselge patt. Ei ole me ka ainsad, kes leiavad, et kassis miskit peidus on. Vaadakem kasvõi Jaapani poole.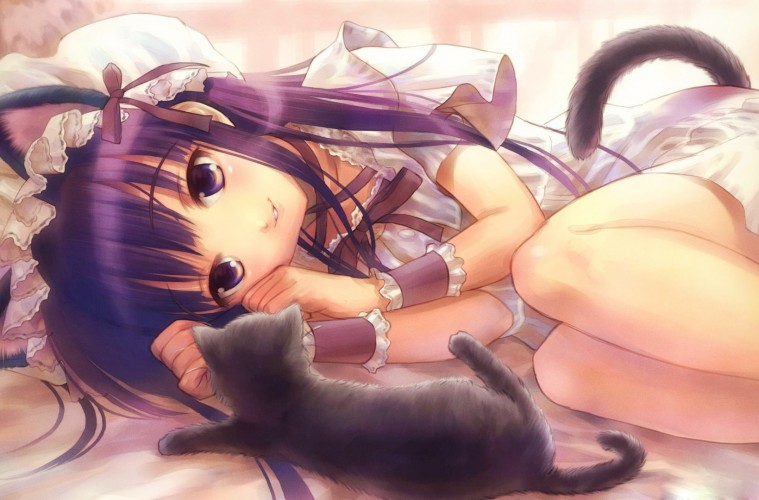 Olgugi et Kemonomimi (inime, kel on miski looma kõrvad, vahel ka saba) on populaarne, ei saa me üle ega ümber, et seda esindab peamiselt ikkagi nekomimi - enamasti noor neiu, kel kassi kõrvad ja saba ning ka mõned kassi käitumismustrid. Sellest on saanud omamoodi anime sümbol.
Jaapani ajaloolistes tekstides aga on kassidel samamoodi negatiivne varjund, kui meil. Kui kass elas kaua sai temast deemon-kass ning temas tärkas maagiline vägi. Sellised deemon kassid suutsid käia tagajalgadel, rääkida inimkeeli ning muuta end välimuselt ka inimese sarnaseks.
Aga kuidas siis?
Dungeons and Dragons on juba algusest saati olnud erinevate mõtete, mütoloogiate ja ideede segu - täielik mixing pot - kus esialgsest müütilisest olevusest või ideest on tihtilugu alles vaid nimi, muu aga mängu loojate enda fantaasia.Munk on selle hea, olgugi et ekstreemne, näide. Eks looming ju baseerugi sellel, et sa võtad erinevaid juppe siit ja sealt ning siis lased need ühiselt mahlapressist läbi. Põhiline on see, et oleks äge, nii loomingus kui mängus.
Kõutslane, kes päeval võib võtta nii kassikõrvadega inimese kui ka kassi enda kuju (kuid siiski vajadusel inimkeeli rääkida suudab), öösiti aga pigem deemoni või kolliga sarnaneb oleks ju päris äge, eksole? Ehk võitleks oma kassilike instinktidega ning ka miski pimedama poolega.
Oleks samas ka mingil määral mütoloogiaga seotud ja põhjendatud (eriti Kelmid ja Kangelased maailmas, kus üks hetk ootamatu kogus väge laia ilma laiali paisati - see aga igasugu imetrikke tegema hakkas).

Nüüd vaja lihtsalt numbrid ette võtta ja valmis vorpida.
Ehk ei toimi kohe, aga ilma proovimata ei tea - enamik dragonsist on nii tehtud, miks ei võiks me samamoodi jätkata ja seda kodustada.